Iccwin Contacts in Bangladesh
Our Iccwin support service is available 24 hours a day, where you can turn for help and get the answer on various issues regarding our work at any time. The widest variety of Iccwin contacts is provided to players for support, among which are round-the-clock Iccwin Live Chat, Telegram, Whatsapp, and email addresses, so our Bangladesh users can reach us in any convenient way and receive a guaranteed and professional answer to every question.
So, read this article to find out all about Iccwin customer care service and our Social Media contacts.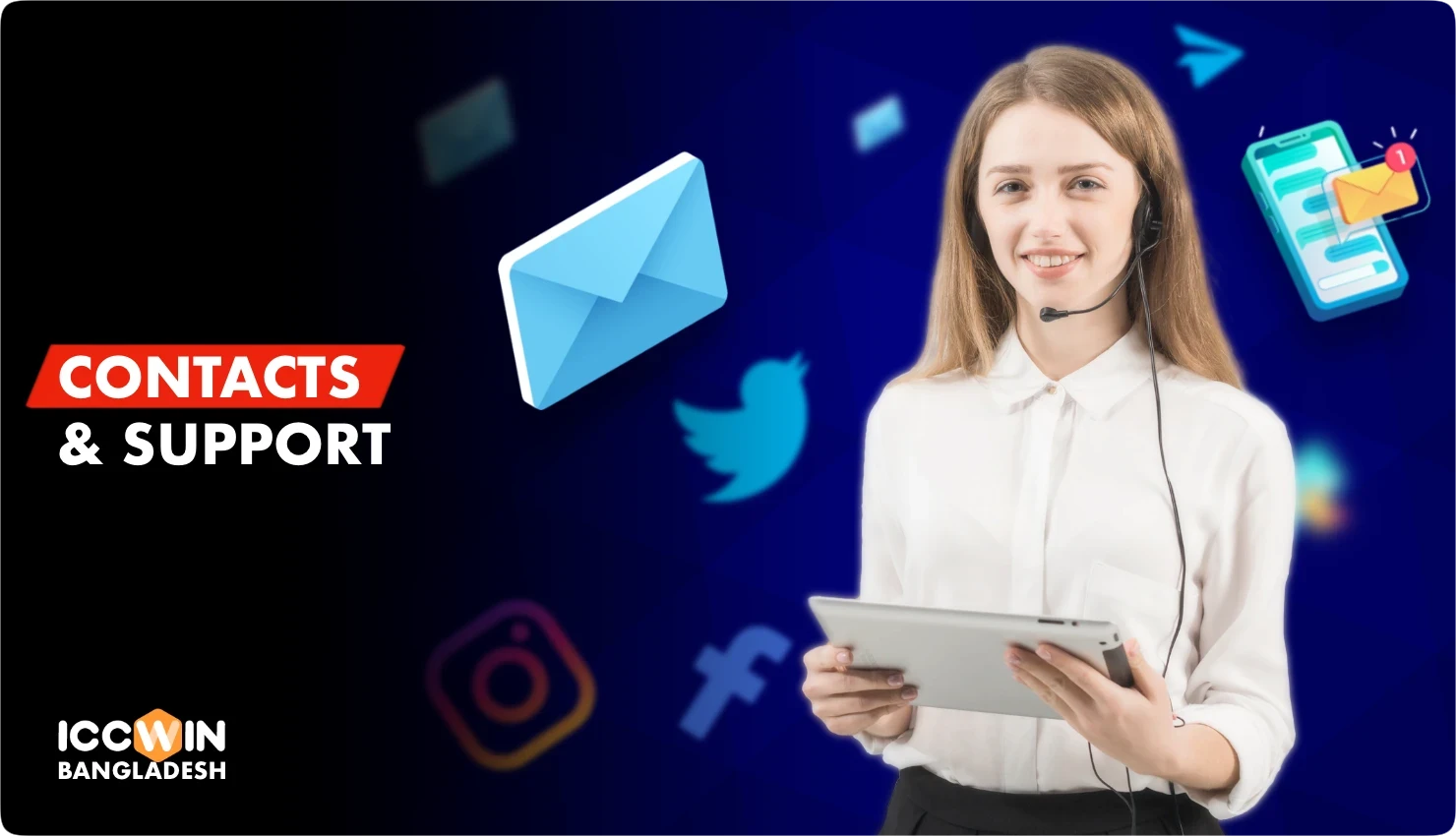 Main ways to communicate Iccwin
Iccwin provide the best service for our users, that is why we supply many ways to connect customer care service and solve questions connected with your personal account, deposits and withdrawals, affiliate program, and so on. Our professional managers will help you as soon as possible at any time with any of the methods.
Live chat
The most popular way for Iccwin support is a Live Chat. It is available 24 hours and 7 days a week on any page of the official website, as well as in the iccwin app. To communicate with our manager, you need to click on the chat icon on the right of the page and text your message explaining the problem, and a professional and polite answer will be received immediately. This method is also accessible for unregistered customers who want to learn more about our service.
Email
Reaching Iccwin customer care by email address is a great opportunity for those who need to explain the issue in detail and enclose pictures or screenshots to their message. For getting professional support, our players can write to one of the valid official Iccwin contact emails:
The customers can feel free to write their messages in Bengali, English, or Hindi, and a detailed response will be given as soon as possible.
Iccwin in social media
We are a modern and up-to-date bookmaker service, that is why we keep up with the times and upload social media, where our users can get fresh news and promotions from us, as well as receive help and answers to any issue connected with our service.
Instagram
The most loyal users of our service can follow our official Instagram: instagram.com/iccwin.co. Here we post the latest updates about current sports events, so real sports fans can keep in touch and not miss matches to place bets on and win the gain.
Telegram
One more way to get the latest news from Iccwin is to subscribe to our Telegram channel: @Iccwinofficial where all about bonuses and promotions, the upcoming sports events and odds are displayed. Moreover, you can reach customer care help via Telegram by writing to @icc_support where the professional and polite manager will help you solve the existing issue immediately.
Facebook
Also, our users from Bangladesh can follow us at Facebook: facebook.com/iccwinofficial where you can receive the latest updates about the most prominent sports championships and games in order to catch the best odds, place bets, and win extra money at Iccwin.
Twitter
One more Iccwin social media is Twitter: twitter.com/ICCWIN1 where you can dive into the latest sports news, find out the winners and finalists of the leading tournaments and competitions, read predictions, and share your ideas about ongoing matches.
Whatsapp
One more way to contact our customer care service is to write to Whatsapp 24/7 Live Chat that can be found on every page of our platform if you click on the icon at the center of the right side where you can choose the kind of connection with us.