Responsible Gaming at Iccwin Bangladesh
Iccwin promotes responsible gambling. We ensure that we comply with industry standards to ensure fair gaming with a safe outcome when money is at risk. We believe that gaming should be a fun form of entertainment, but there should be some limits.
We also have a customer support team that is always ready to help you in case you need to know more.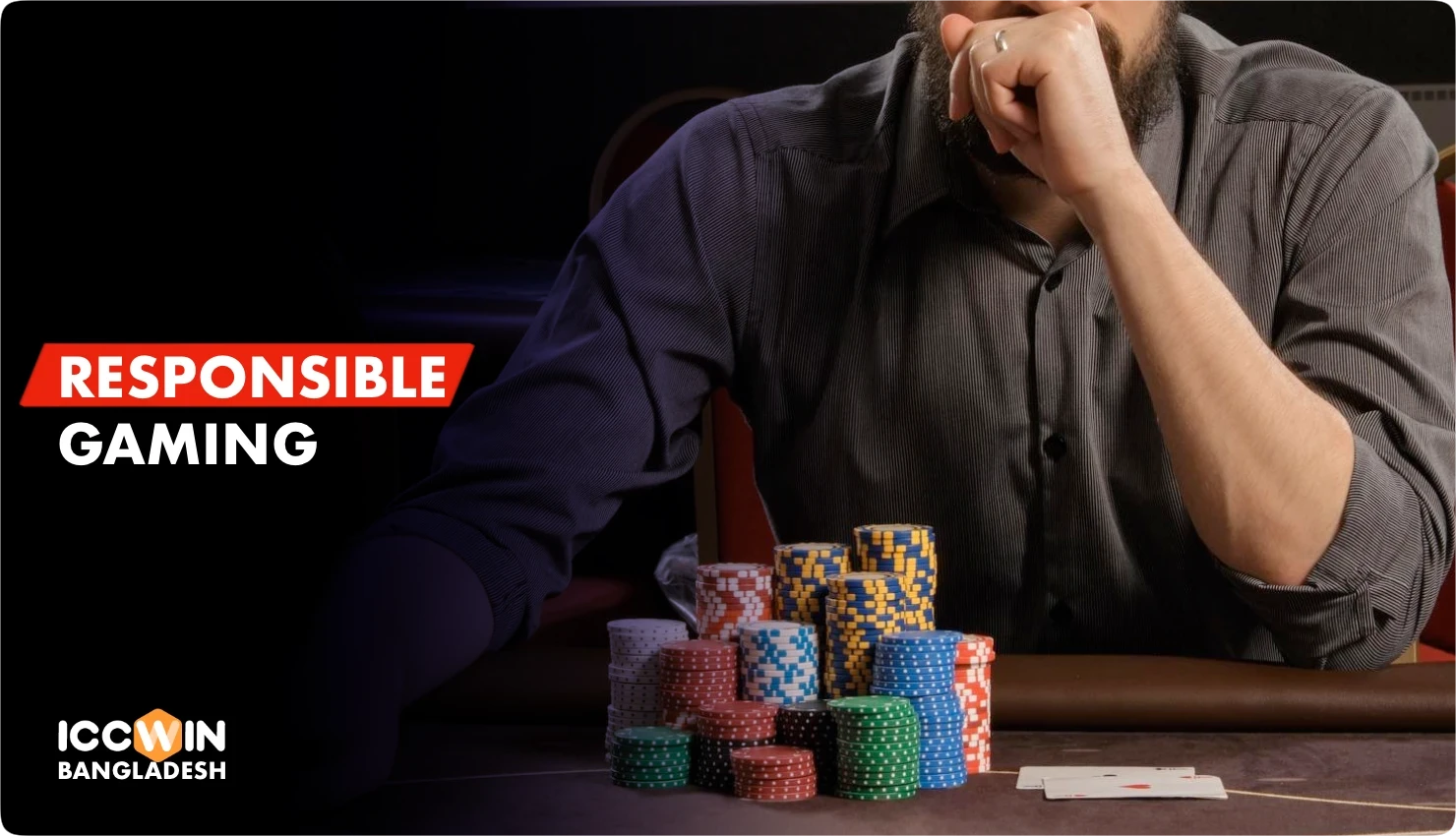 Responsible Gaming Tips
Especially for you, we have prepared a list of responsible gaming tips every gambler needs to know. It is worth remembering that gambling is usually just a form of entertainment. So, here are a few tips that will protect you from the negative consequences of gambling:
In general, you should not consider gambling entertainment as a way to make money;
You should always gamble for money that can be lost without hurting yourself;
You should not chase losses;
You can set a monetary limit;
You should also not play slot machines exactly when you are upset or disturbed;
Apart from gambling, balance your activities with other activities;
Don't drink too much as alcohol is not suitable to combine with gambling.
Following these tips will keep you safe from the negative effects of excessive gaming. If you want more helpful tips, you should contact customer service.
Problem Gambling Warning Signs
What are the warning signs for gambling problems? Below you will find the main potential signs of gambling problems:
You think and talk about gambling all the time;
You shouldn't spend more time or money on gambling than you can afford;
Generally, you find it difficult to control and stop or reduce the number of games you are involved in;
Feeling devastated or lost when there is no gambling;
You play more to recoup losses or get out of financial trouble;
In addition, the accumulation of debts, unpaid bills, or other financial problems occurs because of gambling;
You may gamble until you run out of money;
You feel the need to gamble with large sums of money or for a long period to get the same feeling of excitement;
Conflicts with friends or family members over money, games, and gambling.
If you notice similar signs, contact the 24-hour customer service team. Or try to stop it yourself. Also, if you notice problems with colleagues or acquaintances, seek help immediately. You can visit specialist websites for unbiased, professional, and independent advice.
Preventing underage gambling
As a general rule, it is forbidden to register accounts or play games at Iccwin betting site unless you are under 18 years of age. Minors are not permitted to access and register on our website as our verification system does not allow minors to register. In case of false, misleading, or deceptive information about the age of the player, it is possible to forfeit the winnings and refund all deposits of the player who violated the rules. It is also worth using parental controls, in case you have devices that are used by underage members of your family. You may also wish to consider using the help of websites that are dedicated to this topic.
Precautions for minors
We have guidelines to prevent minors from accessing our site, we recommend the following precautions for parents:
Use child protection software to block remote gambling sites;
Do not leave computers unattended when accessing our site;
Do not let minors know your account details;
Try not to use the "save password" function;
Create a separate section for minors on family computers "create a special profile with children".
Following these tips will keep you and your underage family members safe.